I'm going to spell out why Donald Trump needs to be impeached immediately.
Donald Trump treats women as objects. This can be seen through his speech and past actions.
Sexist and Predator
There has been repeated, and in my opinion believable, accusations against the President for sexual assault. This makes sense when you have a man who is clearly a malignant narcissist.
I believe Katie Johnson, age 13, among others.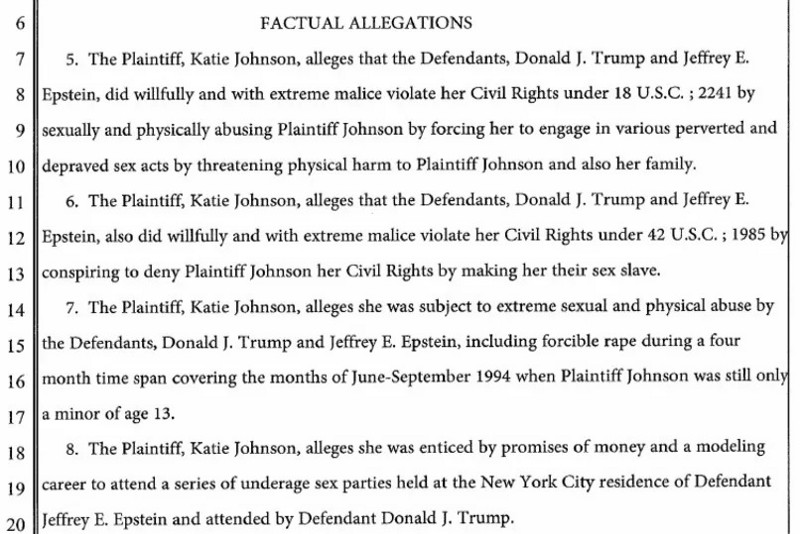 Here are some of the other accusations.
List of Trump's accusers and their allegations

At least 17 women have accused Donald Trump of varying inappropriate behavior, including allegations of sexual… abcnews.go.com
Trump in his Own Words
"Before a show, I'll go backstage and everyone's getting dressed, and everything else, and you know, no men are anywhere, and I'm allowed to go in because I'm the owner of the pageant and therefore I'm inspecting it…You know, they're standing there with no clothes. And you see these incredible looking women, and so, I sort of get away with things like that." — Trump on the Miss America pageant
https://www.buzzfeednews.com/article/kendalltaggart/teen-beauty-queens-say-trump-walked-in-on-them-changing#.yeDE8k6Qkl
Look at that face. Would anyone vote for that?
https://www.usatoday.com/story/news/nation-now/2015/09/10/trump-fiorina-look-face/71992454/
"They had a person who was extremely proud that a number of the women had become doctors. And I wasn't interested." — Trump on the Miss America pageant
https://www.cnn.com/2016/10/08/politics/trump-on-howard-stern/
"All of the women on The Apprentice flirted with me — consciously or unconsciously. That's to be expected."

"I've said if Ivanka weren't my daughter, perhaps I'd be dating her."
https://nypost.com/2018/06/20/new-tell-all-details-trumps-creepy-relationship-with-ivanka/
"You know, it really doesn't matter what the media write, as long as you've got a young and beautiful piece of ass."
If you don't like CNN, just listen to Trump's words.
"Ariana Huffington is unattractive both inside and out. I fully understand why her former husband left her for a man — he made a good decision."

"I did try and fuck her… I moved on her like a bitch, but I couldn't get there. And she was married."
Opinion | Billy Bush: Yes, Donald Trump, You Said That

Op-Ed Contributor He said it. "Grab 'em by the pussy." Of course he said it. And we laughed along, without a single… www.nytimes.com
"I think the only difference between me and the other candidates is that I'm more honest and my women are more beautiful."

"What is it at 35? It's called check-out time."
Look at that face. Would anyone vote for that?
"No, I have no age — I mean, I have age limit. I don't want to be like Congressman Foley, with, you know, 12-year-olds." — Trump on whether or not he has an age limit for women he sleeps with
In fairness, Trump's accusation was from a 13 year old instead.
"That may be the best idea of all. I would say I'm the all-time judge, don't forget, I own the Miss Universe pageant." — Trump on doing a show where he simply rates women
Trump in Their Words
E. Jean Carroll joins at least 21 other women in publicly accusing Trump of sexual assault or…

On Friday afternoon, New York magazine published an excerpt from a memoir written by E. Jean Carroll in which the noted… www.vox.com
"He pushed me up against the wall, and had his hands all over me and tried to get up my dress again," Harth said, "and I had to physically say: 'What are you doing? Stop it.' It was a shocking thing to have him do this because he knew I was with George, he knew they were in the next room. And how could he be doing this when I'm there for business?"

- Jill Harth

"It wasn't a sexual come-on. I don't know why he did it. It was like just to prove that he could do it and nothing would happen," Anderson said. "There was zero conversation. We didn't even really look at each other. It was very random, very nonchalant on his part."

- Kristin Anderson

"I knew who he was, but I had never met him. He was with a few other men, I was quite surprised when I overheard him talking to the other men about me. He said, 'Hey, look at this one, we haven't seen her before. Look at those legs.' As though I was an object, rather than a person."

"He then walked up to me and reached his right arm and grabbed my right arm, then his hand touched the right inside of my breast. I was in shock. I flinched,"

- Karena Virginia

"All of a sudden I felt a grab, a little nudge. I think it's Ken's camera bag, that was my first instinct. I turn around and there's Donald. He sort of looked away quickly. I quickly turned back, facing Ray Charles, and I'm stunned.″

McGillivray said she remembers saying to herself, ‴OK, am I going to say something now and make a scene or be quiet?′ I chose to stay quiet.″

- Mindy McGillivray
All the assault allegations against Donald Trump, recapped

Sixteen women have come forward with allegations against President Donald Trump, each accusing him of inappropriate… www.pbs.org
Malignant Narcissism
This type of behavior is in line with his personality.
Yale Psychiatrist on 'The Dangerous Case of Donald Trump'

To the surprise of much of the world, Donald Trump had just been elected president of the United States, and Lee's… theglobepost.com
Impeach Now.