I'm going to spell out why Donald Trump needs to be impeached immediately.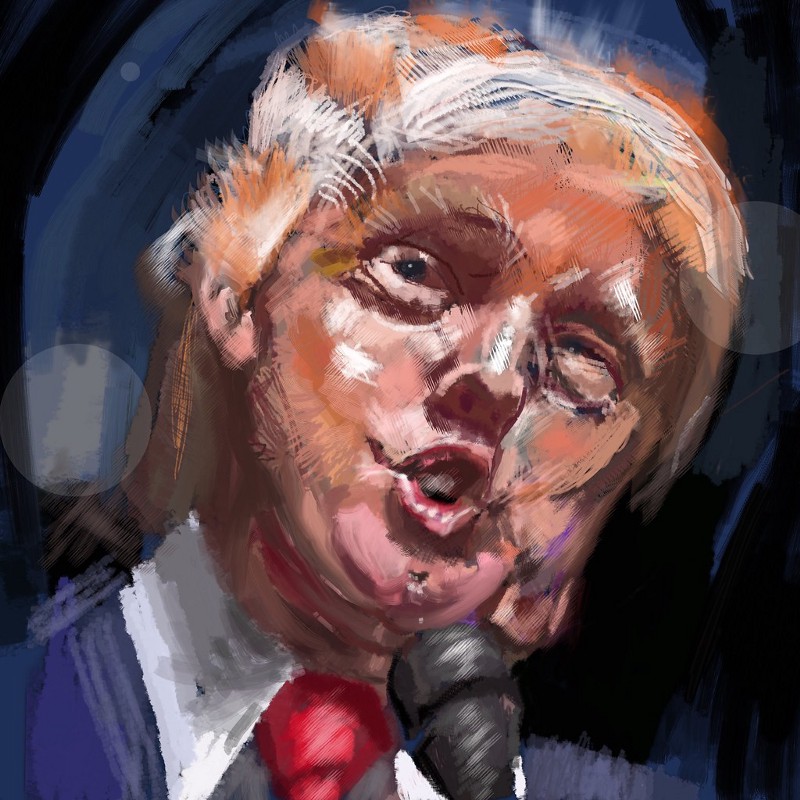 "Trump" by Cowgirl111 is licensed under CC BY-NC-SA 2.0
Trump is a Criminal
Has Trump committed crimes in office? Yes. Just real the Mueller Report and listen to Michael Cohen's admissions.
Has Trump committed crimes in his career? Hell yes. There is no question.
Trump used his charity as a personal piggy bank, using it to buy goods for his private business and paying off personal expenses.
Trump Foundation Self-Dealing Violations Highly Unusual, Experts Say

For an outsized billionaire like president-elect Donald Trump, his namesake private foundation, the Donald J. Trump… www.forbes.com
Trump used $258,000 from his charity to settle legal problems

Donald Trump spent more than a quarter-million dollars from his charitable foundation to settle lawsuits that involved… www.washingtonpost.com
Trump Foundation Will Dissolve, Accused of 'Shocking Pattern of Illegality'

What you need to know to start the day: Get New York Today in your inbox .] The Donald J. Trump Foundation, once billed… www.nytimes.com
Trump SoHo is another great example of a pattern of criminal behavior. Trump's business lied to investors about the property.
Trump Foundation Self-Dealing Violations Highly Unusual, Experts Say

For an outsized billionaire like president-elect Donald Trump, his namesake private foundation, the Donald J. Trump… www.forbes.com
Donald Trump Settled a Real Estate Lawsuit, and a Criminal Case Was Closed

For Donald J. Trump, it is a long-held legal strategy, if not a point of pride, to avoid knuckling under to plaintiffs… www.nytimes.com
How Ivanka Trump and Donald Trump, Jr., Avoided a Criminal Indictment

This article is a collaboration between The New Yorker, ProPublica, and WNYC. In the spring of 2012, Donald Trump's two… www.newyorker.com
Trump SoHo was a built in collaboration with Bayrock, the employer of Felix Sater. Sater worked as a Wall Street broker until his career ended when he stabbed a man in the face with a broken margarita glass.
Meet Felix Sater, the Russian-born, bar-fighting felon with ties to the mob at the center of…

Felix Sater, a Russian-born businessman with a checkered past, emerged as a central figure in the investigation into… www.businessinsider.com
How a Lawyer, a Felon and a Russian General Chased a Moscow Trump Tower Deal

When Donald J. Trump took a run at building a tower in Moscow in the middle of his 2016 presidential campaign, it was… www.nytimes.com
Did Felix Sater's 20 Years as an Informant Help Land Him at the Center of the Trump-Russia Story?

Among the Trump-Russia investigation's many loose ends, one stands out: the Trump Tower Moscow project and the… theintercept.com
Sater's story is a familiar plotline in the Trump-Russia narrative: An opportunistic ex-con ingratiates himself into the Trump Organization, landing a rent-free office on the 26th floor of Trump Tower, then brokers connections between the future president, Trump's family and company, and Russian elites, eventually including the Kremlin. When the unbecoming details of Sater's past — his secret prosecution, his ties to organized crime — come to light, the president disavows their relationship.
Sater was one of the individuals who ties Trump to Putin.
"I will get Putin on this program and we will get Donald elected," Sater famously wrote in a November 2015 email to Michael Cohen, then Trump's personal attorney, that was first published in the New York Times. "Our boy can become president of the USA and we can engineer it…I will get all of Putin's team to buy in on this, I will manage this process."
Separate from the question of his ties to Putin and Trump, this is a man that various parts of our government has trusted for decades. He was an informant for the FBI, CIA and other government agencies. Why did we trust him?
Trump also has a long record of intimidation and payoffs.
Trump's history of intimidation tactics - Need to Impeach

Watch: Michael Cohen's history of vicious threats In late March, Stormy Daniels revealed that an unknown man approached… www.needtoimpeach.com
Trump's advocacy for bribery - Need to Impeach

As a businessman, Donald Trump wanted bribery to be legal. He frequently railed against the Foreign Corrupt Practices… www.needtoimpeach.com
Now that he's in office, does he follow the rules? No.
Federal Watchdog Finds Government Ignored Emoluments Clause With Trump Hotel

subscribe to The NPR Politics Podcast podcast Officials leasing the Old Post Office Building for the Trump… www.npr.org
"The GSA Office of General Counsel recognized that the President's business interest in the lease raised issues under the U.S. Constitution that might cause a breach of the lease, yet chose not to address those issues," said Inspector General Carol F. Ochoa. "As a result, GSA foreclosed an opportunity for an early resolution of these issues and instead certified compliance with a lease that is under a constitutional cloud."
Impeachable Offenses New - Need to Impeach

Where Congress Stands File a Complaint: AG Barr Recruit your friends Volunteer Call your Representative Email your… www.needtoimpeach.com
Ultimately the question is if we should trust a criminal who is committing crimes to lead the country. I don't see a way that the answer can be yes.
The only thing Ice Cube gets wrong was detailed by Mueller in his testimony.
Full Transcript of Mueller's Statement on Russia Investigation

Robert S. Mueller III, the special counsel, made his first public comments on Wednesday about the Russia investigation… www.nytimes.com
The introduction to the Volume II of our report explains that decision. It explains that under longstanding department policy, a president cannot be charged with a federal crime while he is in office. That is unconstitutional. Even if the charge is kept under seal and hidden from public view, that, too, is prohibited. A special counsel's office is part of the Department of Justice, and by regulation, it was bound by that department policy. Charging the president with a crime was therefore not an option we could consider. The department's written opinion explaining the policy makes several important points that further informed our handling of the obstruction investigation. Those points are summarized in our report, and I will describe two of them for you.

First, the opinion explicitly permits the investigation of a sitting president, because it is important to preserve evidence while memories are fresh and documents available. Among other things, that evidence could be used if there were co-conspirators who could be charged now.

And second, the opinion says that the Constitution requires a process other than the criminal justice system to formally accuse a sitting president of wrongdoing. And beyond department policy, we were guided by principles of fairness. It would be unfair to potentially — it would be unfair to potentially accuse somebody of a crime when there can be no court resolution of the actual charge.

So that was Justice Department policy. Those were the principles under which we operated. And from them, we concluded that we would not reach a determination one way or the other about whether the president committed a crime. That is the office's final position, and we will not comment on any other conclusions or hypotheticals about the president. We conducted an independent criminal investigation and reported the results to the attorney general, as required by department regulations.
The message is clear. Any charges for crimes cannot be filed until he is out of office. That means impeachment or election.
Now, Trump knows what he did. Presumably, he knows that the thing keeping him out of jail is his Presidency. That makes him desperate. That makes him even more dangerous.
Our future is in the hands of the House of Representatives. Their role is not to determine if impeachment would work, their role is to determine if impeachment is necessary. From there it goes to the Senate, who have their own responsibilities.