I'm going to lay out the type of person I see in Trump.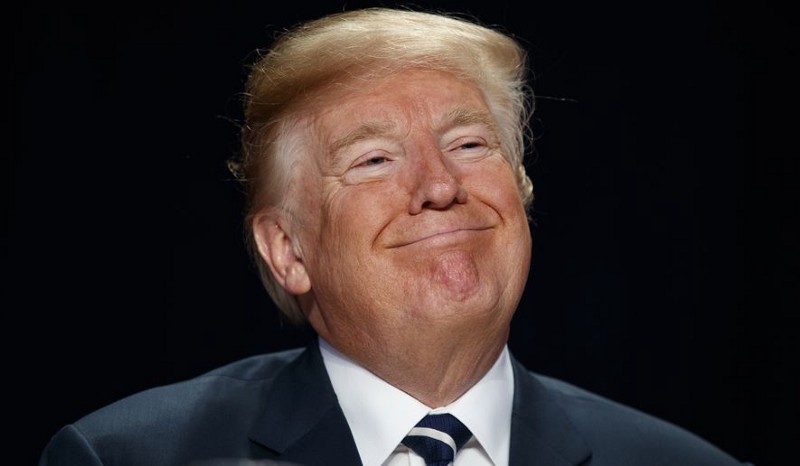 Ugh.
Business
Trump got his start in Real Estate working for his father while in college. He graduated in 1968, and was President of the company by 1971. Clearly a leg up based upon family wealth, not hard work.
He claimed to be first in his class, but many of his classmates don't even remember him:
Trump flaunts Wharton degree, but his college years remain a mystery

Whenever his intellectual credibility is questioned or mocked, Republican presidential candidate Donald Trump is quick… www.thedp.com
From 1980 to 1990, he created the name "John Barron" (sometimes Baron), which he used for PR purposes to try to build up hype for his own name. He admitted to this in 1990 in court.
Donald Trump masqueraded as publicist to brag about himself

The voice is instantly familiar; the tone, confident, even cocky; the cadence, distinctly Trumpian. The man on the… www.washingtonpost.com
He admitted it again in 2016
Donald Trump admits to using aliases two weeks after denying it

Donald Trump admitted to using aliases in the past during an interview on Wednesday with late-night talkshow host Jimmy… www.theguardian.com
In 1984, he used that name to manipulate his way higher on the Forbes 400 list. Jonathan Greenberg managed to dig up the recording of this.
Listen To Newly Released Recordings Of Trump Pretending To Be 'John Barron' In 1980s Phone…

It's been known for years that Donald Trump used to pretend to be a fake Trump Organization representative named "John… digg.com
I've dug up repeated news stories on newspaper.com where he has used that name in order to build hype for for projects that never went anywhere.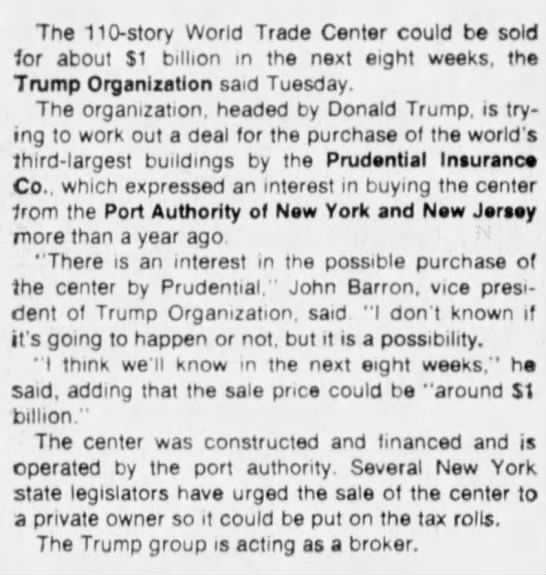 John Barron is Trump - Newspapers.com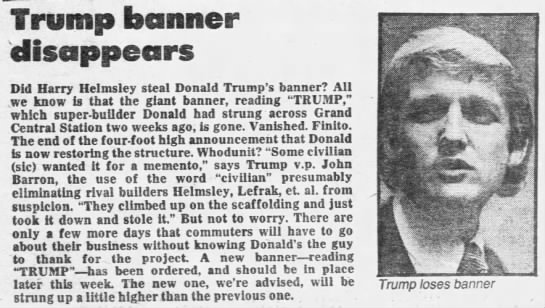 John Barron is Trump. He uses that persona for manipulation purposes. - Newspapers.com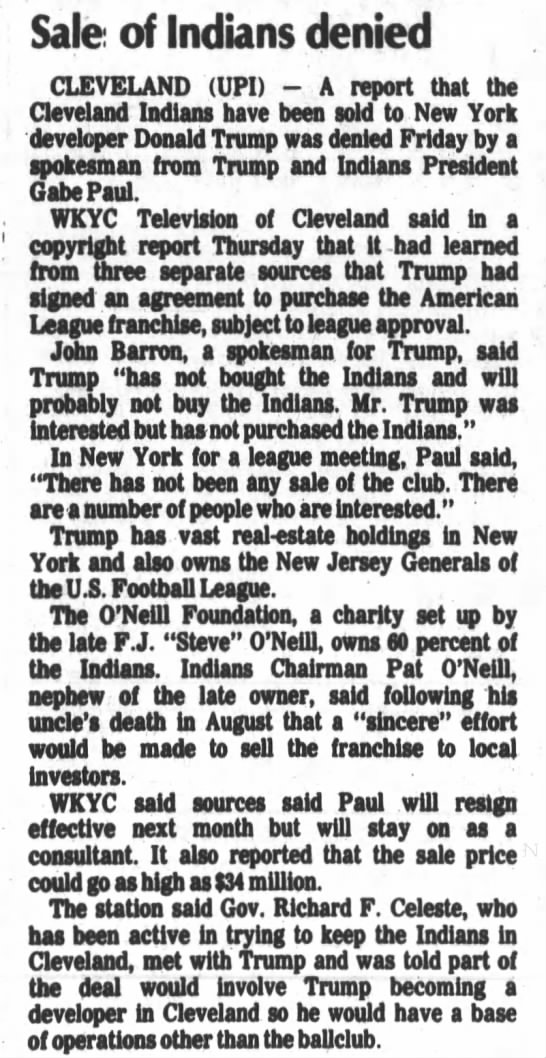 John Baron is Trump. - Newspapers.com

John Barron is a pseudonym for Donald Trump - Newspapers.com

John Baron (or sometimes barron) is a fake name that Trump admitted to using. - Newspapers.com
He also briefly used the name John Miller afterwards, but the only article I saw explicitly points out that it may be Trump due to the whole Barron thing that was still in the news.
In 1987 we saw the release of "Art of the Deal". A book written by Tony Schwartz on behalf of Trump. Trump partnered up with Tony after he wrote a very critical article about him and he *liked it*.
Schwartz had written about Trump before. In 1985, he'd published a piece in New York called " A Different Kind of Donald Trump Story," which portrayed him not as a brilliant mogul but as a ham-fisted thug who had unsuccessfully tried to evict rent-controlled and rent-stabilized tenants from a building that he had bought on Central Park South. Trump's efforts—which included a plan to house homeless people in the building in order to harass the tenants—became what Schwartz described as a "fugue of failure, a farce of fumbling and bumbling." An accompanying cover portrait depicted Trump as unshaven, unpleasant-looking, and shiny with sweat. Yet, to Schwartz's amazement, Trump loved the article. He hung the cover on a wall of his office, and sent a fan note to Schwartz, on his gold-embossed personal stationery. "Everybody seems to have read it," Trump enthused in the note, which Schwartz has kept.
Donald Trump's Ghostwriter Tells All

Last June, as dusk fell outside Tony Schwartz's sprawling house, on a leafy back road in Riverdale, New York, he pulled… www.newyorker.com
Here's Tony Schwartz's view on Trump now:
I wrote The Art of the Deal with Trump. He's still a scared child | Tony Schwartz

"I alone can do it." These five extraordinary words kept coming back to me as I reflected on Donald Trump's first year… www.theguardian.com
Art of the Deal writer says damning New York Times tax report ends myth of Trump as a 'self-made…

Tony Schwartz, who as the co-author of The Art of the Deal , helped Donald Trump cement his reputation as a man of… www.independent.co.uk
'Art of the Deal' co-author says Trump is having a 'meltdown' and explains why this is a 'true…

Donald Trump's co-author of his 1987 book The Art of the Deal says he believes the president is having a "meltdown" and… www.independent.co.uk
Perspective | I wrote 'The Art of the Deal' with Trump. His self-sabotage is rooted in his past.

Why does President Trump behave in the dangerous and seemingly self-destructive ways he does? Three decades ago, I… www.washingtonpost.com
The Frontline Interview: Tony Schwartz

Funding for FRONTLINE is provided through the support of PBS viewers and by the Corporation for Public Broadcasting… www.pbs.org
'Art of the Deal' co-author says Trump is losing his mind

"We are in a true emergency," Tony Schwartz said on CNN Sunday. "And the accelerated rate at which his breakdown, or… nypost.com
Throughout his career he has made it a habit of renegotiating after work is done or just not paying contractors, much like how Wal*Mart likes to strong arm other businesses. He uses his size as leverage against smaller businesses. He admits to this:
Why U.S. Law Makes It Easy for Donald Trump To Stiff Contractors

Allegations that Donald Trump frequently refuses to fully pay his contractors has been raised by Wall Street Journal… fortune.com
Racism
In 1989 a woman was raped in Central Park. 5 innocent dark skinned men went to jail for the crime, at least partially because of Trump spending a lot of money to help railroad them.
Trump in 1989 Central Park Five interview: "Maybe hate is what we need"

In an interview with Larry King in 1989 unearthed from CNN's archives, Trump laid out his position on the case, telling… www.cnn.com
Member of 'Central Park 5' blasts Trump

A member of the "Central Park 5" who was wrongfully convicted in a horrific 1989 New York rape case blasted Donald… www.cnn.com
His administration is housing immigrant children in tents in the desert.
Texas desert tent city for immigrant children balloons in size

TORNILLO, Texas (Reuters) - A tent city in the west Texas desert set up to hold immigrant children has expanded its… www.reuters.com
Arpaio did that too. He "jokingly" referred to them as concentration camps.
Arizona's 'concentration camp': why was Tent City kept open for 24 years?

'Hitler! Hitler!" the prisoners chanted to the TV cameras in protest. It was 4 February 2009. More than 200 Latino men… www.theguardian.com
Joe Arpaio: Tent City a "Concentration Camp"

Kudos to Valeria Fernandez and A.J. Alexander for their work on this video You never know when Sheriff Joe is going to… www.phoenixnewtimes.com
Perspective | The year I spent in Joe Arpaio's tent jail was hell. He should never walk free.

I was born in Mexico, grew up in Tijuana, and moved to Arizona when I was 14. I went to high school in a small town… www.washingtonpost.com
The whole birther thing reeks of racism, although it could just be personal hatred for Obama. He really disliked this speech:
Here's his long form birth certificate:
President Obama's Long Form Birth Certificate

Ed. Note: Read the transcript of the President's remarks following this release or watch the video here. In 2008, in… obamawhitehouse.archives.gov
Here's an article about his father from a year after his birth that says he has not been back to Kenya in 7 years.
Do you know who *was* born outside of the country and yet was still able to run for president with minimal problems? Ted Cruz. The son of a Cuban man and an American woman who was born in Canada.
PolitiFact - Is Ted Cruz, born in Canada, eligible to run for president? (Updated)

For most of his presidential campaign and much of his presidency, President Barack Obama endured erroneous claims that… www.politifact.com
Cruz is an American citizen because his mother was one. Much like Ann Dunham, Obama's mother. So even if Trump was right, which he wasn't, Obama would be just as eligible as Cruz.
Sexual Misconduct
Trump himself has a history of being accused of sexual assault:
https://www.fox47news.com/newsy/renewed-lawsuit-accuses-donald-trump-of-raping-an-underage-girl
The sexual misconduct allegations against Donald Trump - the full list

growing list of powerful men have faced serious consequences for sexual misconduct allegations but the most powerful… www.theguardian.com
A former co-worker actually met the man once for some event. During a photo op, she says he grabbed her ass.
He admitted this type behavior to Billy Bush, and admitted that this was him until he suddenly changed his tune and said it wasn't him.
Trump recorded having extremely lewd conversation about women in 2005

Donald Trump bragged in vulgar terms about kissing, groping and trying to have sex with women during a 2005… www.washingtonpost.com
From 'locker room talk' on, Trump fends off misconduct claims

Since October 2016, when the Washington Post published an "Access Hollywood" recording of Donald Trump bragging about… www.politico.com
Trump has started suggesting the Access Hollywood tape is fake. It's not.

President Donald Trump has apparently taken to suggesting the now-infamous Access Hollywood tape was a fake. It's a… www.vox.com
Even Billy Bush confirmed he said it:
Opinion | Billy Bush: Yes, Donald Trump, You Said That (Published 2017)

Op-Ed Contributor He said it. "Grab 'em by the pussy." Of course he said it. And we laughed along, without a single… www.nytimes.com
He was also friends (along with Bill Clinton) with Jeffrey Epstein, a convicted pedophile:
The one weird court case linking Trump, Clinton, and a billionaire pedophile

NEW YORK-A woman who claims in a lawsuit that she was lured into a sex-trafficking ring run by billionaire Jeffrey… www.politico.com
Constitutional Issues
My biggest constitutional concern is related to Joe Arpaio. Trump's pardon there was legal, but showed either contempt for, or ignorance of, the Constitution.
Joe Arpaio was focused on kicking out illegal immigrants. He was so committed to that, that he would racially profile US citizens of latino descent in order to determine if they are legal residents or not. That is a violation of their constitutional rights.
Perspective | I was one of Joe Arpaio's victims. He doesn't deserve a pardon.

On Dec. 4, 2009, my wife, Eva, and I were driving in our truck in Phoenix when a Maricopa County sheriff's deputy drove… www.washingtonpost.com
Analysis | What you need to know about former Arizona sheriff Joe Arpaio's record on illegal…

"Do people in this room like Sheriff Joe? … I'll make a prediction: I think he's going to be just fine, okay?" … www.washingtonpost.com
The courts, which are supposed to protect our citizens against governmental overreach determined that his profiling was illegal, and ordered him to stop.
Department of Justice Releases Investigative Findings on the Maricopa County Sheriff's Office

WASHINGTON- Following a comprehensive investigation, the Justice Department today announced its findings in the ongoing… www.justice.gov
He did not stop. Due to this, he was convicted of criminal contempt:
Ex-Sheriff Joe Arpaio Convicted Of Criminal Contempt

Joe Arpaio, the former sheriff who garnered nationwide attention for his crackdown on illegal immigration, has been… www.npr.org
Trump pardoned him for this crime, siding with constitutional abuse rather than the courts. This pardon is legal, but immoral and ignores the rights of the citizens that Arpaio was oppressing.
Judge accepts Trump pardon of Arpaio

Acceding to a controversial pardon from President Donald Trump, a federal judge has dismissed the criminal contempt of… www.politico.com
Additionally, there's the emoluments clause violation.
Opinion | Trump's latest violation of the emoluments clause

When President Trump tweeted on Sunday about ZTE, the Chinese telecom company, he initially left more than a few… www.washingtonpost.com
What is the 'Emoluments Clause'? Does it apply to President Trump?

On Monday morning, a liberal watchdog group filed a lawsuit against President Trump, alleging he'd violated a… www.washingtonpost.com
The whole purpose is to prevent government officials from accepting money from foreign dignitaries in exchange for favors. It's hard to prove that sort of quid pro quo, so we attempt to prevent even an appearance of impropriety. That's why Carter gave up his family farm when he accepted the presidency.
President Jimmy Carter Gave Up His Peanut Farm And Richard Nixon Sold Most Assets To …

President Jimmy Carter once owned a Georgia peanut farm that came to symbolize him during the presidential race where… article.wn.com
But instead of doing the same, Trump put his business in a revocable trust headed by his children. Who are pretty clearly still involving him in a regular basis.
There is also the issue of nepotism. Trump appointed his family into his administration. When nepotism was brought up, he just didn't pay them. But that does not prevent the conflict of interest, and ignores the fact that he's getting rich via the actions of his company, not through his government salary.
The lease on the Post Office Pavillion, which is now a Trump hotel where dignitaries stay, clearly states that an elected government official cannot make money off of the building. He was fine when he signed the lease, but not anymore. And his administration makes a point of sending people there.
https://democrats-transportation.house.gov/imo/media/doc/wysiwyg_uploaded/2017-07-12%20RPT%20Trump%20Hotel_0.pdf
Additionally, Mar-A-Lago seems to be a clear cut case of pay for play.
Donald Trump

Edit description www.washingtonexaminer.com
Trump allies who belong to his private Mar-a-Lago club are reportedly making decisions for the VA

An "informal council" of three confidants of President Donald Trump who have neither served in the U.S. military nor… www.cnbc.com
Mar-a-Lago member declines Trump appointment as ambassador to Austria

During a quiet meeting with President Donald Trump at Mar-a-Lago during the Thanksgiving weekend, Palm Beach resident… web.archive.org
EXCLUSIVE: Mar-a-Lago member Lana Marks headed to South Africa post?

President Donald Trump is said to be ready to nominate couture handbag designer and Palm Beach resident Lana Marks to… www.palmbeachdailynews.com